11 Chris Peterson
Forward






Senior


Shoots: Left


Wt: 160 lbs Ht: 5' 8"


Born: September 19, 1993 in Secaucus, N.J.
Home: Jersey City
Youth Hockey Team: Bayonne Rangers Midget 18-U A team
Favorite Hockey Team: Pittsburgh Penguins
Favorite Hockey Player: Sidney Crosby
Home Life: Parents; Barbara & Chris
Sister; Amanda '14
Skates: Bauer X:60
Dream Stick: Bauer One95
Favorite Movie:

Miracle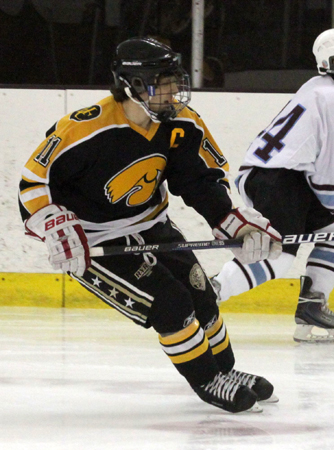 Chris Peterson is in his fourth year with the Hawks. This year Peterson has been chosen to be the team captain.
In his freshmen year, he played mostly in net, but also saw time as a forward. This gives an added dimension to the Hawks. Peterson scored his first varsity goal in the first game he did not play in goal. He scored the third goal in a 3-goals in two minute rally against Northern Valley Old Tappan at
the Charlie Heger Rink in
Pershing Field. His first varsity point came on the first goal of the rally when he assisted on Luke Ingles goal. He also assisted on the second goal. He notched another goal and assist the next game against River Dell. Peterson becomes the first Hawk freshman to score a goal in his first varsity game since (I'm still looking this one up). On January 28 at
the Charlie Heger Rink
in a game against High Point H.S., Peterson started in net, came out after three minutes and changed into his forwards equipment. He then returned to the ice and proceeded to notch his first career hat trick.
Peterson made 29 saves when he won his first game in net with a 6-5 win over Hackettstown High School on January 18 at the Chill Out Rink. This was the first win by a freshman Hawk goalie since December 22, 2004 when Justin Lucas defeated Brick High School. On February 11, Peterson, while in net, assisted on the tying goal in a 4-4 tie against Newton. He is the first goalie to assist on a goal since January 10, 2003 when A.J. Drago assisted on a goal in a 5-1 win over Bergen Catholic.
Peterson finished 5th on the team in scoring. He was voted on by the coaches in the division honorable mention for the Northern Blue Division All-Star Team.
As a sophomore, Peterson mostly played as a forward, except for two games in January when he was back in net. On December 7, 2008, in a game against River Dell in the Ice House in Hackensack, Peterson notched a career high single-game record with four points (a goal and three assists). On January 2, 2009, in a game against Hackettstown at Pershing Field, Peterson scored his second career hat trick. On January 19, 2009, Peterson scored his third career hat trick against Morris Hills at
the Charlie Heger Rink
. He also added three assists for a career game-high of six points. He would continue scoring at least one goal in the next three games. On January 26, 2009, in a game against River Dell at
the Charlie Heger Rink
, Peterson assisted on Chris Hendrick's powerplay goal for his 50th career high school point. He is the youngest player to reach 50 points since Michael Lagola and Peter Haglund did it during their sophomore years in 1999
. Peterson finished the season as the top scorer with 41 points and was again voted by the coaches in the northern blue division as honorable mention to the All-Star team.
On January 30, 2009, Peterson was named the
Jersey Journal
's "Athlete of the Week" for scoring 16 points in four games during an eight day span (eight goals and eight assists).
In his junior year, Peterson led the team in goals (20) and points (30). He scored three hat tricks during the season. He scored his first trick on January 2 at the Ice Vault against West Milford High School. His third one was on February 2 at the Charlie Heger Rink against Fair Lawn High School. However, it was his second one that was his most memorable. In his best game of the year on January 30 at Chill-Out Rink against Newton - Lenape Valley, he would notch a "Texas" hat trick with four goals. With the Hawks down 6-4 with less than three minutes to play, Peterson would score two goals in 49 seconds to tie the game (the Hawks would ultimately lose the game in the final two seconds). Peterson also assisted on Curtiss Korn's goal earlier in the game for five points on the night. At the end of the season was voted by the coaches in the northern blue division 2nd Team Offense to the All-Star team.
As a senior, Peterson started the season with 84 career points which is 24th on the All-Time Hudson Catholic scoring list. On December 8, 2010, Peterson scored a hat trick, his seventh career hat trick, against Xavier High School in the Rich Korpi Rink in Bayonne. On December 30, 2010, in the Rich Korpi Rink against Morris Hills, Peterson had a career high ten points as the Hawks won the bronze medal of the Bayonne Holiday Tournament. He scored his eighth hat trick with six goals and four assists. This was also his 100th point of his high school career. He scored his 10th varsity hat trick against Newark Eastside on January 19, 2011 in the AmeriHealth Pavilion in Newark. On January 31, he scored his 11th varsity hat trick, another "Texas" hat trick with four goals against Vernon High School at the Charlie Heger Rink. He notched his 12th varsity hat trick against Newark Eastside on February 2, 2011 in the AmeriHealth Pavilion in Newark. With those goals, Peterson moved into fouth place on the All-Time Hudson Catholic goal scoring list. He is also 9th on the All-Time scoring list.
Peterson starting skating at the age of seven in hockey clinics in
the Charlie Heger Rink
. His first travel team was the Jersey City Capitals Squirt team. The following year he moved to the Bayonne Rangers Pee-wee A team. Peterson returned to the Jersey City Capitals for his second pee-wee year. In his first bantam year, he came back to the Bayonne Rangers on their Bantam A team. This team went on to win the NJYHL Bantam A playoffs. The following year, the team made the playoffs again winning a bronze medal. Three years ago, he was back with Bayonne Midget U-16 A team. Last year, he played on Bayonne's Midget U-16 AA team. This year he played on the Rangers 18-A team which went undefeated in their division.
For the past three years, Peterson competed in the Garden State Games at the varsity division. He won gold medals in the past two years. In his sophomore year, he scored the tying goal in the final minutes of the gold medal game to force overtime. Last April, Peterson made Team New Jersey, an all-star team that competed in the American Showcase in Pittsburgh (formally Chicago Showcase).
Peterson's sister Amanda is also a hockey player. Along with Hudson Catholic, she is a defenseman with the Bayonne Rangers Bantam A team and a forward with the NJ Colonials Girls AAA team.

Peterson was a member of Hudson Catholic's freshman baseball team where he catches. As a sophomore, he played on the varsity and junior varsity baseball teams. He is also a member of the Hudson Catholic yearbook staff. In his free time, he likes to watch every possible video he can find on YouTube featuring Sidney Crosby and look at websites on hockey equipment or car parts.
Last summer, he achieved a lifelong dream of visiting the Hockey Hall of Fame in Toronto.
The photo is of Peterson in a game against Xavier High School at the Rich Korpi Rink in Bayonne on December 8, 2010 - he had a hat trick in the game.
CAREER STATISTICS


Season Statistics Playoff Statistics




| | | | | | | | | | | | | | | |
| --- | --- | --- | --- | --- | --- | --- | --- | --- | --- | --- | --- | --- | --- | --- |
| | Games | Goals | Ass't | Points | PPG | SHG | +/- | PiM | Games | Goals | Ass't | Points | +/- | PiM |
| 2007-08 | 7 | 6 | 7 | 13 | 2 | 0 | | 4 | --- | --- | --- | --- | --- | --- |
| 2008-09 | 22 | 23 | 18 | 41 | 4 | 1 | | 16 | --- | --- | --- | --- | --- | --- |
| 2009-10 | 22 | 20 | 11 | 31 | 3 | 0 | | 42 | --- | --- | --- | --- | --- | --- |
| 2010-11 | 25 | 46 | 32 | 78 | 12 | 3 | | 85 | 2 | 5 | 6 | 11 | | 8 |
| Total | 76 | 95 | 68 | 163 | 21 | 4 | | 147 | 2 | 5 | 6 | 11 | | 8 |
CAREER GOALTENDING STATISTICS

Season Statistics Playoff Statistics

| | | | | | | | | | | | | | |
| --- | --- | --- | --- | --- | --- | --- | --- | --- | --- | --- | --- | --- | --- |
| | Games | Min. | Goals | Shots | Saves | GAA | SV% | ShO | Min. | Shots | Goals | GAA | SV% |
| 2007-08 | 20 | 806 | 128 | 604 | 476 | 7.15 | 78.8 | 0 | --- | --- | --- | --- | --- |
| 2008-09 | 2 | 90 | 15 | 74 | 59 | 7.50 | 79.7 | 0 | --- | --- | --- | --- | --- |
| 2009-10 | 1 | 30 | 6 | 33 | 27 | 9.00 | 81.8 | 0 | --- | --- | --- | --- | --- |
| Total | 23 | 926 | 149 | 711 | 562 | 7.24 | 78.9 | 0 | --- | --- | --- | --- | --- |