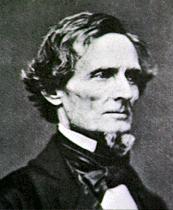 My wife, Debbie, and I took a trip to Washington D.C. back in 1996 before we were married. We drove down to Richmond for the day. We visited Hollywood Cemetery in Richmond. It is called the Arlington of the Confederacy because of the many famous Confederate people buried here. After entering the cemetery we came upon Confederate President Jefferson Davis first. Also buried here are two presidents. In what is called the President's Circle is James Monroe and John Tyler. Aside from Davis and the two presidents, there are 26 Confederate generals buried here. Among the more famous are JEB Stuart, George Pickett, Henry Heth and Fitzhugh Lee. After leaving Hollywood, we took a tour of the Virginia Statehouse (highly recommended). We had dinner in the Shockoe Slip District in Richmond at the Richbrau Brewing Company and Restaurant (I recommend the Griffin Golden Ale) . After which we drove back to our hotel in Arlington.
Jefferson Davis was born in Kentucky, but his family moved to Mississippi. He was the son of a Revolutionary War officer and his three older brothers fought in the War of 1812. So it comes as no surprise that Davis was sent to the United States Military Academy at West Point in 1824 (at the age of 16). After his graduation in 1828 (with classmate Robert E. Lee), Davis fought in the Black Hawk Wars. He resigned his commission in 1835. Davis married Sallie Knox Taylor, the daughter of his commanding officer and future U.S. President, Zachary Taylor (unfortunately, she died three months later from malaria).
In 1845, Davis married Varina Howell, the daughter of a Mississippi aristocrat and plantation owner and soon after entered politics. A champion of States' Rights and a Democrat, he was elected to the U.S. House of Representatives representing Mississippi in 1845. In Congress, he favored annexation of Texas and war with Mexico so much so that he resigned from Congress to take up command as Colonel of the 1st Mississippi Regiment in June of 1846. His regiment joined the command of his former father-in-law, General Zachary "Old Rough and Ready" Taylor. Davis showed courage under fire at the Battle of Monterey on September 21, 1846. At The Battle of Buena Vista, on March 6, 1847, Davis was severely wounded but his actions helped win the battle.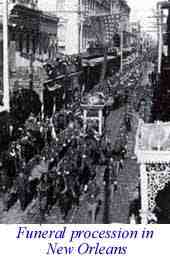 After the war, Davis was appointed to fill a vacant seat in the U.S. Senate in 1847 and was re-elected to a full term after that. This was the time when the Senate was a hotbed of debate of the question of slavery. He voted in favor of the Compromise of 1850. Later in 1851, he resigned from the Senate to run for Governor of Mississippi, but lost. A year later, he joined President Franklin Pierce's cabinet as his Secretary of War. In 1857, Davis left the Cabinet to re-enter the United States Senate by the election of the legislature of Mississippi. He became a leader of the southern Democratic defense of slavery and its constitutional right to it's protection in the territories. He supported the Kansas-Nebraka Act which he thought would finally bring peace. Davis was committed to preserving the Union and when his party started to break up during the Convention of 1860, he tried to bring unity through a compromise candidate. He opposed succession, but when Mississippi succeeded in 1860, Davis meekly resigned from Congress declaring it, "the saddest day of my life."
He returned to his plantation, "Brierfield" (20 miles south of Vicksburg), hoping for a military position in the new Confederacy. Instead, much to his dismay, he was selected President of the Confederacy. Davis was passionately committed to the cause of the Confederacy, and toiled endlessly for it. This caused him severe health problems. While contemporaries and, later, historians have found much to criticize about his leadership, most scholars consider that he guided the Confederacy as ably as one could expect, given its situation. Davis elevated Robert E. Lee to command but was hampered by his own government and country in fighting the war. He once said that he wished he had the power that Lincoln enjoyed. Davis did suffer a personal tragedy while president. His 5-year old son, fell out of a window of the Executive Mansion in Richmond in April of 1864 (Today called the White House of the Confederacy) and was killed.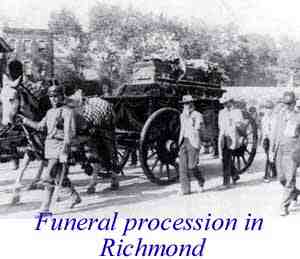 Davis did commit a number of military blunders that severely hurt the Confederate cause. After the Battle of Chickamauga, he ignored good generals like James Longstreet and Nathan Bedford Forrest who wanted to remove the inept General Braxton Bragg. Davis and Bragg had fought together in Mexico so Davis kept him in command. Bragg's overwhelming defeat at the Battle of Chattanooga killed any chance the South had to win the war. In 1864, wanting more offense outside the besieged Atlanta, Davis relieved the defensive minded General Joseph E. Johnston in favor of General John Bell Hood. Hood's reckless attacks cost the Confederacy much needed manpower.
In 1865, as the Confederacy crumbled around him, he fled Richmond for the South. He was captured by the U.S. Army in Georgia and imprisoned at Fort Monroe in Virginia. While in prison, he was visited by former president Franklin Pierce. He spent two years in jail on the charge of treason, but was released by presidential order before his trial. After spending a couple of years traveling to Canada and England, Davis returned to private life as a businessman in Mississippi living in a mansion called "Beauvoir" (near Biloxi, Mississippi.) The charges of treason against him were dismissed in 1869. On a trip to his old home at "Brierfield", he became sick in New Orleans. He stayed at the home of a friend and died there of pneumonia on December 6, 1889. 42 years later, his home "Brierfield" was destroyed by a fire.
70,000 people view Davis as he laid in state in New Orleans' City Hall. On December 11, there was a large funeral, with around 200,000 people lining the streets, as the funeral procession (2nd photo) went through the city. He was buried in Metairie Cemetery in New Orleans. 18 months later, his wife Varina decided that the president of the Confederacy should be buried in Richmond. His body was moved to Richmond on a funeral train that made several stops along the way. Davis' body laid in state in the Virginia Statehouse while 25,000 people filed by. A large funeral procession (3rd photo) carried him to Hollywood Cemetery were he was re-interred.
His first cemetery, Metairie in New Orleans (I haven't been there yet) is the final resting place of famous Civil War General's Pierre Gustave Toutant Beauregard and John Bell Hood along with New Orleans District Attorney Jim Garrison (movie JFK), Jazz great Al Hirt, baseball Hall of Famer Mel Ott and Ruth Fertel (founder of Ruth's Chris Steak House who died last April).
Here are some webpages of interest:
Beauvoir - Jefferson Davis' Home, Museum and Presidential Library
The White House of the Confederacy
United States Military Academy
Guide to Historic Richmond
The Internet Public Library Biography
Metairie Cemetery