Chet Arthur was the 3rd DPOTUS that I picked up on a Columbus Day weekend trip through upstate New York and New England back in 1999 in what I dubbed "DPOTUS Tour '99". My wife and I had just left Martin van Buren in Kinderhook and drove up the highway to Albany. We had some trouble finding the cemetery, since I wasn't sure it's exact location only a general one. After to topping in a connivance store, I looked over their map and found what I was looking for. Its entrance is off a heavily traveled road. It's easier to enter if you're going south (of course, I was going north).
As soon as you enter the cemetery (they do have maps in a box at the main building), there are signs that lead you directly to Chet. It's a very large, hilly place. There are some other famous people resting at Albany Rural like Revolutionary War hero Philip Schuyler, Stephen Van Rensselaer and New Jersey's 2nd Governor William Paterson.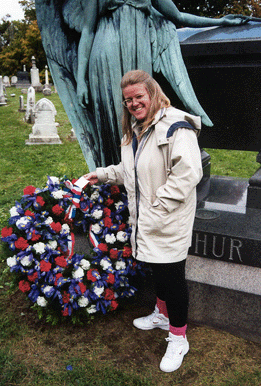 The grave is very interesting. The bronze angel resting her hand on Chet's coffin is very interesting. The flowers were from President Clinton, celebrating Chet's recent birthday. I returned to see Chet with my nephew Justin during a hockey tournament in Albany. We were in the neighborhood so I thought I would drop by. It was his First DPOTUS.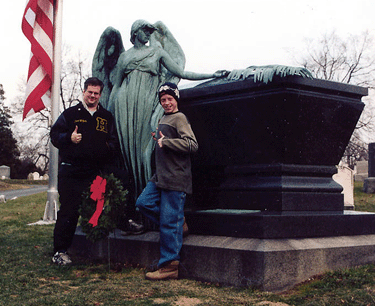 After leaving the cemetery, we drove over the Berkshires into Western Massachusetts. We spent the night in the Charlemont Inn in Charlemont, Massachusetts on Route 2. The next morning we are looking for "Silent Cal."

[PHOTO: We arrived only a couple of weeks after Chester Arthur's birthday (his 179th). These flowers were sent by the White House. It must be a tradition to send flowers on the birthdays of ex-presidents]

A couple years later, Debbie and I where in Albany for a hockey tournament with our nephew Justin. So, we dropped by Chet Arthur's grave so Justin could see it.

<>
<>Here are some webpages of interest:> ><>>
White House Biography of Chester A. Arthur
The Internet Public Library Biography
The American President Biography