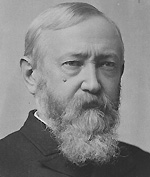 Benjamin Harrison was the fourth dead president, and the 26th overall, that my wife Debbie and I visited on
"

The Five DPOTUS Tour '05

". Along with the dead presidents, we picked up dead vice presidents, dead supreme court chief justices and losing presidential candidates. We started out from Bayonne early in the morning on Saturday, August 27. We drove through Pennsylvania and into Ohio. We stopped in Fremont, Ohio to visit Rutherford B. Hayes. The next day we continued, with numerous stops, to Chicago. After spending the week in Chicago, we headed on to Iowa to get Herbert Hoover and then back to Springfield, Illinois. The next morning we visited Abraham Lincoln and then headed off to Indianapolis, Indiana to see Benjamin Harrison, then on to Dayton, Ohio for the night. The next day, after stopping in Columbus, we headed north toward Marion, Ohio and Warren G. Harding.


In Indianapolis, Indiana, we drove to Crown Hill Cemetery. This is one of the most famous cemeteries in the country due to the fact it has one dead president, Benjamin Harrison, three dead vice-presidents; Fairbanks, Thomas Marshall and Thomas Hendricks along with famous gangster John Dillinger. Crown Hill is extremely large and though Harrison's grave is easy to find (since there are signs pointing you to it), the three vice-presidents were not so easy.

To say that Harrison was born into a famous American political family is somewhat of an understatement. He was the grandson of President William Henry Harrison and the great-grandson of Benjamin Harrison V (who signed the Declaration of Independence). Benjamin was the second of eight children of John Scott Harrison (later a U.S. Congressman from Ohio) and Elizabeth Ramsey Irwin. After graduating from
Miami University (colloquially and incorrectly referred to as Miami of Ohio)
in Oxford, Ohio in 1852 (
Ben Roethlisberger
graduated from the same university), he became a lawyer and got a job working for the Indiana Supreme Court.
On October 20, 1853, he married Caroline Lavina Scott. They had two children who lived to adulthood, Russell Benjamin Harrison and Mary Harrison McKee, as well as a daughter who died very shortly after birth in 1861.
Harrison served in the Union Army during the Civil War and was appointed colonel of the 70th Indiana Volunteer Infantry Regiment. The unit performed reconnaissance duty and guarded railroads in Kentucky and Tennessee until Sherman's Atlanta Campaign in 1864. Harrison, who was known for his fighting spirit and leadership, was brevetted as a brigadier general and commanded a Brigade at Resaca, Cassville, New Hope Church, Lost Mountain, Kennesaw Mountain, Marietta, Peach Tree Creek and the Siege of Atlanta. Harrison was later transferred to the Army of the Cumberland and participated in the Siege of Nashville and the Grand Review in Washington D.C. before mustering out in 1865.

After the war, he got his job back
with the Indiana Supreme Court
. A Republican, he ran unsuccessfully for governor of Indiana in 1876. He was appointed a member of the Mississippi River Commission in 1879 and in 1880 was elected to the United States Senate, where he served one term to 1887. The following year, Harrison set his sights higher.

After beating John Sherman for the Republican presidential nomination at the 1888 Republican National Convention in Chicago, Harrison was elected President of the United States in 1888. In the Presidential election, Harrison received 100,000 fewer popular votes than incumbent President Grover Cleveland but carried the Electoral College 233 to 168. Although Harrison had made no political bargains, his supporters had given innumerable pledges upon his behalf. When Boss Matthew Quay of Pennsylvania heard that Harrison ascribed his narrow victory to Providence, Quay exclaimed that Harrison would never know "how close a number of men were compelled to approach...the penitentiary to make him President." Harrison was also known as the "centennial president" because his inauguration was the 100th anniversary of the inauguration of George Washington.

While in the White House, his wife Caroline started the tradition of having a White House Christmas tree. She also oversaw a number of renovations before becoming sick.

For Harrison, Civil Service reform was a no-win situation. Congress was split so far apart on the issue that agreeing to any measure for one side would alienate the other. The issue became a popular political football of the time and was immortalized in a cartoon captioned "What can I do when both parties insist on kicking?"

Harrison was proud of the vigorous foreign policy which he helped shape. The first Pan-American Congress met in Washington, D.C. in 1889, establishing an information center which later became the Pan American Union. At the end of his administration, Harrison submitted to the Senate a treaty to annex Hawaii; to his disappointment, President Cleveland later withdrew it.

The most perplexing domestic problem Harrison faced was the tariff issue. The high tariff rates in effect had created a surplus of money in the Treasury. Low-tariff advocates argued that the surplus was hurting business. Republican leaders in Congress successfully met the challenge. Representative William McKinley and Senator Nelson W. Aldrich framed a still higher tariff bill; some rates were intentionally prohibitive. Harrison tried to make the tariff more acceptable by writing in reciprocity provisions.

Long before the end of the Harrison Administration, the Treasury surplus had evaporated and prosperity seemed about to disappear. It didn't help that the Republican-controlled Congress, known as the "billion dollar Congress," wasted a lot of money and made voters very angry. Congressional elections in 1890 went against the Republicans and party leaders decided to abandon President Harrison, although he had cooperated with Congress on party legislation. Nevertheless, his party renominated him in the 1892 Republican National Convention in Minneapolis. However, in the general election, Cleveland who he defeated four years earlier came back to defeat Harrison by almost a 2 to 1 margin in electoral votes (popular votes were 46% to 43% - there was a third party candidate, James Baird Weaver, who carried four states). Just two weeks earlier, on October 25, 1892, Harrison's wife, Caroline died after a long battle with tuberculosis.


After the defeat, he set out on a new career as a writer and a professor. Harrison decided to remarry, however to the shock of many, including his children, he married his wife's widowed niece and former secretary Mary Scott Lord Dimmick on April 6, 1896 at St. Thomas Protestant Episcopal Church on Fifth Avenue in New York City (the current church is not the one they married in, that one burned nine years after their wedding). Harrison's new wife who was 25 years younger then him (Harrison was 62) was born 10 days after his 5th Wedding Anniversary with Caroline. They had one daughter, Elizabeth. Because his two children from his first marriage,
Russell and Mary, were very unhappy about the new marriage, Harrison responded by cutting them out of his will (they were, however, buried near him).

In March of 1901, Harrison, who was only 67 years old, got the flu that developed into pneumonia. Harrison did not respond well to treatments and lapsed in and out of a coma before dying at 4:45 in the afternoon of March 13. Harrison's body, in a walnut casket, lied in state in the rotunda of the Indiana state capital building in Indianapolis. There was a large funeral at the First Presbyterian Church, where Harrison had been a member for almost 50 years, with President William McKinley in attendance. The overflow crowd sang Harrison's favorite hymn, "Rock of Ages." He was next taken to Crown Hill Cemetery where he was buried next to his wife Caroline in a granite tomb that was lowered into the ground as cannons fired.

Personally, Harrison, who was a strict Presbyterian, was known to be somewhat of a cold fish. He was a spectacular orator who could motivate people with rousing speeches, but in one on one situations, would turn the same people off.
After giving speeches, his aides tried to get him away from the people as fast as possible.
People would walk away from a meeting with Harrison and use words like 'chilly,' 'frigid' and 'frosty.' When someone mentioned the 'Harrison bandwagon' in the 1888 convention, one Republican said it was more like an 'icewagon.' After being elected, he was referred to as the "White House iceberg." His handshake was especially weak having been described as being like a "wilted petunia." Harrison, at five feet six inches, was not very tall and was derisively referred to by his opponents as 'Little Ben." harrison also has the distinction of being the last president to wear a beard.

Harrison was also involved in a bizarre legal/medical incident that was called "The Harrison Horror." Harrison had the Ohio state legislature enact strict laws against bodysnatching after his father's body was stolen from the cemetery after his death in 1878 and sold to a medical college for dissection. In a public letter, Harrison described how he was horrified when his father's body was discovered "hanging by the neck...in the pit of a medical college."