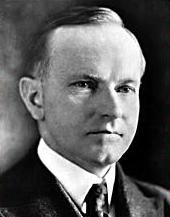 "Silent Cal" was the 4th DPOTUS I picked up on a Columbus Day weekend trip through upstate New York and New England back in 1999. Debbie and I had spent the prior day driving up the Hudson River valley in New York State where we picked up F.D.R., Van Buren and Chet Arthur. After spending the night in Charlemont, Massachusetts, we drove up into Vermont on a beautiful sunny Sunday. We drove up Rt. 100 through Wilmington up to Plymouth Notch. Rt. 100 in Vermont is considered to be one of the nicest roads in the country. We stopped in a few towns to look in some antique stores. We eventually made it to Plymouth Notch.
First we visited the Visitor Center. It has a small museum and gift shop. From there we walked around the village. It has been preserved almost exactly as it looked in 1923. A National Historic Landmark, the village has been designated as the "Plymouth Notch Historic District." We visited the building behind the General Store that Coolidge was born in. We went to his house where he took the oath of office after the death of President Harding. We went to the church, general store and barn. All in all, a pleasant afternoon. Cal is buried in the Plymouth Cemetery, not too far away. As you can see from the photo, it was a gorgeous day.
At 2:30 in the morning of August 3, 1923, while Vice President Calvin Coolidge was home on vacation, he received a message that President Warren Harding was dead and he was now president. It took hours for Coolidge to get the message, since Plymouth Notch had no electricity or phones. Standing in his living room, he took the oath of office, administered by his father, a notary public. Coolidge was following a president whose administration was racked with scandals. He set about bring back the prestige to the office, which is considered his greatest (and maybe only) achievement.
Coolidge is the only president to born on the Fourth of July. His father owned the town's general store (the one he was born in the back of). He is the second president to be born in the State of Vermont (the other was Chester Arthur). A Republican, he entered politics in Massachusetts, eventually becoming governor in 1919. The following year, he was on Harding's presidential ticket.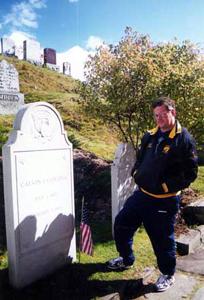 As president, Coolidge refused to do anything in regards to the economy as the country went through the "Roaring Twenties" and the Stock Market continued to climb. His first message to Congress in December 1923 called for isolation in foreign policy, and for tax cuts, economy and limited aid to farmers. He excelled at doing nothing. He felt that it was best for the country. It has been said that he slept through his five and a half years in office. His failure to control stock market speculation led to the Stock Market Crash of '29 and the following Great Depression.
Personally, Coolidge was considered cold and distant. He was famous for not saying much. A woman sitting next to Coolidge at a dinner party told him she had bet she could get at least three words of conversation from him. Without looking at her he quietly answered, "You lose." He suffered a personal tragedy in 1924, when his 16 year old son, Calvin Jr., died from an infection. He chose not to run again in 1928, which saved him from being in office when the market plummeted (his successor, Herbert Hoover received that distinction). When he died in 1933, a humorist wrote in the paper, "how can they tell?"
Any trip to Vermont is worth it. Especially during foliage season when we went. After we had lunch near Killington, we also stopped by a large antique store where Debbie and I did some shopping. From there we drove to the hotel we were staying at in White River Junction, Vermont, which is on the Connecticut River. The next day, we were heading back to New Jersey, via New Hampshire so we could visit Franklin Pierce.
Here are some webpages of interest:
Calvin Coolidge Web Site
Calvin Coolidge Presidential Library and Museum
Calvin Coolidge Vermont Historical Site
White House Biography of Calvin Coolidge
The Internet Public Library Biography
The American President Biography