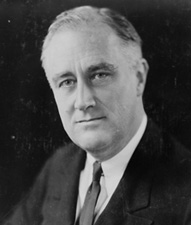 F.D.R. was the 1st DPOTUS I picked up on a Columbus Day weekend trip through upstate New York and New England back in 1999 which I have dubbed "DPOTUS Tour '99". After leaving Bayonne, we drove up to Hyde Park, New York to visit The Franklin D. Roosevelt Library and Museum. It was a spectacular morning.
We first took a tour of Roosevelt's home "Springwood." It wasn't an especially large house. The furnishings were what you would expect, but it was interesting to see the contrivances that had been set up around the house for Roosevelt's disability.
After the tour, we walked over to the gravesite, which is next to the rose garden. Franklin and Eleanor are there side by side next to a large granite memorial. They say their dog Falla is in the rose garden.
We then visited the museum which full of items from his early life through his four administrations. It is definitely worth the visit. From there, we drove north on Rt. 9 toward Kinderhook, New York.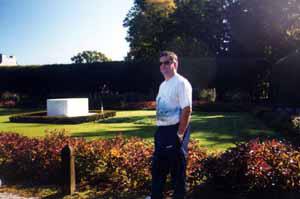 Here are some webpages of interest:

White House Biography of Franklin D. Roosevelt
The Internet Public Library Biography
The American President Biography
Governors of New York