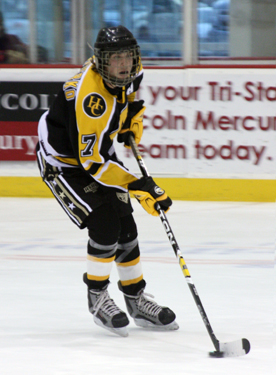 Chris Miterko is in his fourth year with the Hawks. This season, Miterko was named team captain. In his second year with the Hawks, Miterko was 4th on the team in scoring with 16 points, including a pair of powerplay goals. He finished the season getting at least one point in the Hawk's last five games.
Miterko scored his first varsity goal on January 13, 2008 against River Dell in the Ice House in Hackensack when he re-directed a centering pass from Chris Hendricks through the goalies legs. Chris Peterson also assisted on the goal. Miterko also scored a crucial break-away goal against Hackettstown on January 18 in Hudson Catholic's first win of the season. On February 15, Miterko scored a goal and assisted on three others in a 9-8 win over Jackson High School. This was a career high four-point game for him.
Last year, Miterko was named one of the teams alternate captains. After the injury to team captain Jon Guarino, Miterko was named acting team captain. He scored his first varsity hat trick on December 7, 2008 in a game against River Dell in the Ice House. His two goals against High Point on December 15 broke his old single-season record for goals. On January 19, 2009, in a game against Morris Hills at Pershing Field, Miterko notched four points (two goals and two assists), which was a career single-game high. Miterko finished the season as the second highest scorer on the team with 30 points.
Miterko was voted by the coaches in the division as honorable mention for the Northern Blue Division All-Star Team.
Miterko starting skating at the age of 10 in hockey clinics in the Ice House and in Floyd Hall. He has also participated in house leagues in Secaucus.
Miterko is also a member of the Hudson Catholic varsity tennis team. In his free time, Miterko likes to go hunting with his father.
The photo is of Miterko carrying the puck
in a game against Newark East Side High School at the Prudential Center practice rink on January 23, 2009.